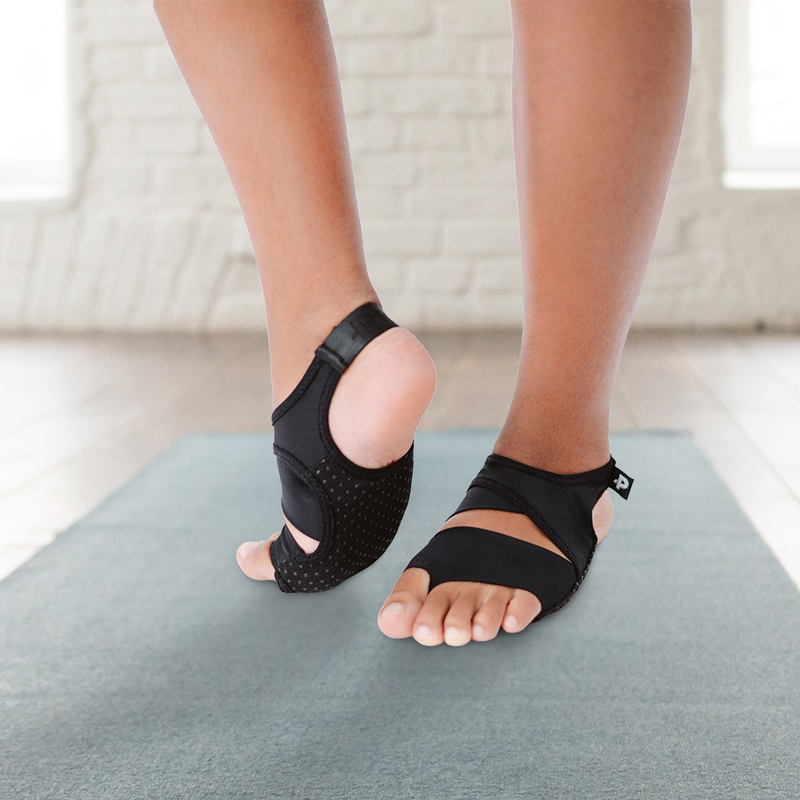 PigaLite™ Stability Grip Socks
In stock
Slip on a pair of PigaLite™ stability grip socks and enjoy dynamic support that molds to the contours of your feet for an instant lifting effect! Our socks feature an arch support band in a lightweight compression design that supports, stabilizes and energizes your feet. 
Free your feet, from street to studio, on land and in the water. Designed for Pilates, yoga, dance, paddle board, martial arts, barre, all-day comfort on lazy days around the house, they're the perfect companion for your practice, post-exercise recovery, standing all day, and more!
With PigaLite, you can count on both comfort and stability for your active lifestyle. 
Bonus! The stretch-to-fit design molds to practically any foot shape for ultimate fresh comfort and maximize your range of motion. 

Light to medium support
Fits the shape of your feet
Breathable and odor resistant
Can be worn alone or in shoes
Washable
Non-slip soles
Unisex sizing
Made of Spandex®, just like your favorite pair of leggings!
Ships from Canada
Find your answers in our FAQ section
FREE SHIPPING ON ALL CANADA AND US ORDERS!

PIGA is happy to offer free shipping via Canada Post Letter-Mail® service in Canada and Small Packet Air® in the United States on all orders. This offer is available for orders shipped within Canada and the United States only.
Learn more about our guarantees and refunds
PigaOne is available in 5 sizes ranging from women's 5 – 11.5 and men's 7 – 12.5 (US sizes). We recommend to go a size up if you have wide feet, and to go size down if you have narrow feet. Here are 2 examples:


Cristina wears a size US 6 and has wide feet, so she chooses size US 7 (M - Medium)
Rob wears a size US 12 and has narrow feet, so he chooses size US 11 (XXL - XXLarge).
Je les adore!
Quel confort! Moi qui aime me promener pieds nus, c'est MA solution idéale. Je suis très heureuse de mes achats (3 paires hahaha)
Léger et confortable
J'utilise les Piga Lite pour donner mes cours de yoga. C'est un excellent concept! Je ne pourrais plus m'en passer. Je suis F55 qui enseigne des cours en groupe 6-10 heures par semaine.
fit comfortably
the socks fit comfortably. Having wide feet, it is always a gamble if socks will not be too constricting, but these are not, and work great.
Just love them!
I can't imagine training on the Pilates Reformer Machine without my Pigas! Tried lots of "Grip Socks" but they never worked as wished. You have to try them!!
This is exactly what I needed
My feet are tiny and dry, it is never easy to grip the ground firmly with my dry skin. I tried some grip socks from Amazon before, they are garbages. The PigaLite helps me so well with all kind of my daily exercises , no matter it is on ground , wood floor or my yoga mat.
The socks are light and easy to carry. Now they are going to be my best buddies no matter where I go.